Looking for new places to work remotely? With Covid-19 changing the way we conduct business, many of us have been either blessed or cursed with working remotely. When companies starting closing their doors and required employees to work remotely in 2020, almost everyone was ecstatic. 
After a few months, we all realized that working remotely 100% of the time can cause more problems than commuting to the company office. 
One of the biggest challenges for me is locking myself in a small room for a week straight and wondering why I am feeling depressed once the weekend comes around. I recently came to the conclusion that working in new environments helped me break up the monotony throughout the week so I could escape from the same 4 walls I was always in. I thought to myself, "What are the best places to work remotely near me?"
I started scoping out any and all places I could work remotely that could give me a break from the boring home office.
Side Note: If you are going to be working remotely in a public place, you may want to consider the danger of connecting to a public WiFi. There are many VPN services that can help you work in a public place safely. 
Here is a list (in order) of my favorite places to work remotely. 
Hotel Lobbies
Working remotely in a hotel is one of my favorite places to get work done. It is usually quiet with only a handful of other people around. Most of the time, there are different options of chairs and tables to work from and the setting is quite comfortable. If I need to jump on a call with a client, the background looks professional without any distractions. My go-to hotel is Courtyard by Marriott because there is one near me and it has a quiet, relaxing area to get work done with free WiFi options. I can always count on one being nearby if I'm traveling, too. Recently I traveled to numerous states and there was always a Courtyard near me.
1. Coffee Shops
Coffee shops and cafes are great places to get remote work done because the majority of them encourage their patrons to get some work done while drinking a cup of coffee. Starbucks is a great example of this. They have built their business model to attract business folks who need a place to get some work done. Depending on the location, the noise level might be high at times, so it is best to work remotely at a coffee shop if it doesn't require a completely quiet setting.
2. Libraries
Libraries can be a great option to get work accomplished depending on the library. Some libraries will have separate workspaces or meeting rooms to take phone calls or for other important tasks that require complete privacy. For most people, multiple libraries can be found within a 15-minute drive. This makes libraries a great free option without having to buy any food/drinks. Take a break from the home office and try working in your local library soon.
3. Restaurants
We all need to eat, right? Try taking an afternoon to remotely work in a quiet restaurant. Keep in mind that most businesses and servers need their prime real estate (tables) to earn revenue. I would suggest not choosing a restaurant that has every table filled…especially during Covid-19.
4. Coworking spaces
Coworking can be a perfect option in today's world. This gives you a dedicated spot to work alongside like-minded people and there are usually a ton of benefits that are included in the membership. Some of these benefits could include free parking, access to conference rooms, networking events, gym memberships, coffee/beer, and possibly more.
5. Malls
Depending on the mall, you may be able to find a quiet lounge area that is comfortable enough to accomplish some work. Typically, there are plenty of businesses nearby to find one that is offering free WiFi. The next time you are strolling through the mall, keep an eye out for any potential working areas.
6. Someone Else's Home
This is an option that I have used countless times. I have a few family members that aren't home during the day and are fine with me crashing their pad to get some quality work done. Recently, my parents were out of town and needed someone to take care of a few things for their home. I was able to work there and it was a refreshing place to work remotely because I did most of my work on their comfy patio outside.
7. College Campuses
If you are near a university, try locking down a spot where you can get some quality work done. Most universities have a ton of great spots to stay focused on studying or any type of work. I've noticed the WiFi may not be easily accessible unless you are an active student or if there is a nearby business (restaurant/etc) that offers non-student WiFi. The library, commons, outdoors, or buildings with quiet sitting areas may be a perfect fit to work remotely. Luckily, the university I visited has local businesses within range, but it may differ at other campuses.
8. Private Member Clubs
Private member clubs may have areas you can get some work done, that is, if you are a member of one. Because such a small percentage of people have access to private member clubs, I ranked this near the bottom of the list. However, now may be the perfect time to consider joining one if you aren't already a member.
9. Parks / Outdoors
This can be a great option if you have access to hotspot internet from your phone. Essentially, you can work from anywhere as long as you can get connected to the internet. Try going to a park or somewhere in nature to work in a peaceful setting.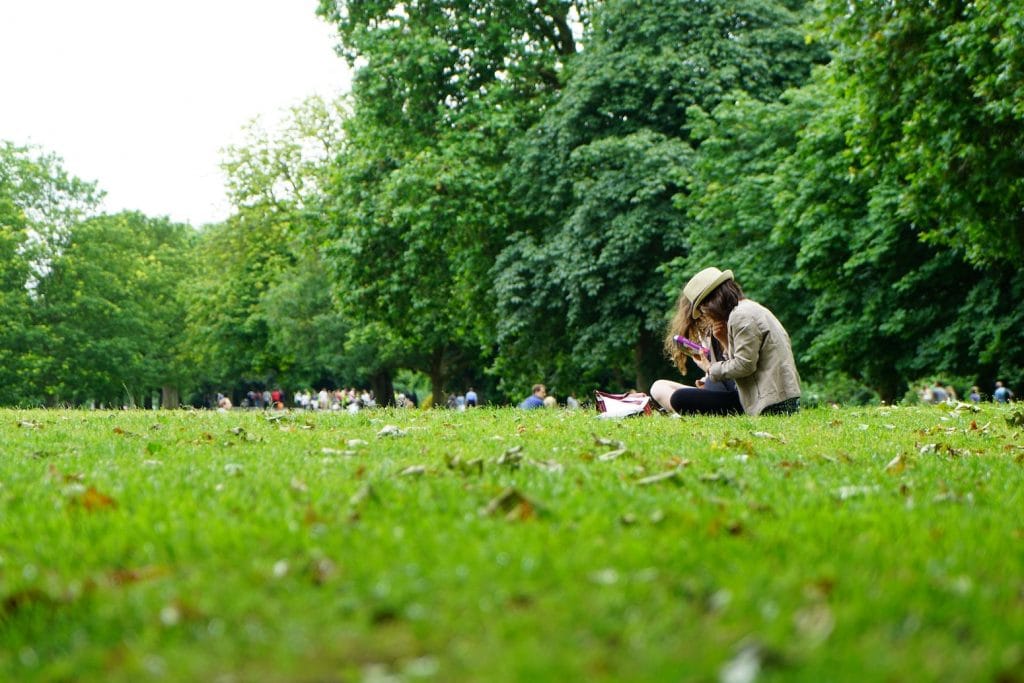 For me, I like to find the most convenient, free options that are quiet enough so I don't have any distractions. Lately, I found hotels, coffee shops, and libraries to be the best solution. When I am traveling, I can usually find a Courtyard Marriott nearby that can offer me exactly what I need. If you are in the US, you might wonder which places have WiFi and can accommodate working remotely.
What Businesses Have Free WiFi and Are Good For Working Remotely?
Luckily, most businesses will have free public WiFi. However, the goal is to find a location that is mostly distraction-free so you have maximum productivity. Below is a list of national businesses in the US that offer free Wifi and can be a good option for working remotely.
Courtyard by Marriott
Panera Bread Company
BJ's Brewhouse
Starbucks
Barnes & Noble
Dunkin' Donuts
McDonald's*
Subway*
Buffalo Wild Wings*
*For some restaurants, you may need to find a quiet area in order to stay productive.
You can also try to google Wifi near me on Google Maps / etc. and Google will help you find options nearby.
If you know of any good places to work remotely that weren't included, leave a comment below so we can get them added to this article. We hope this helps you stay productive while you are working on your current project/company/hobby/etc!
Read Also: Stop Sleeping In. Watch These Motivational Videos Instead